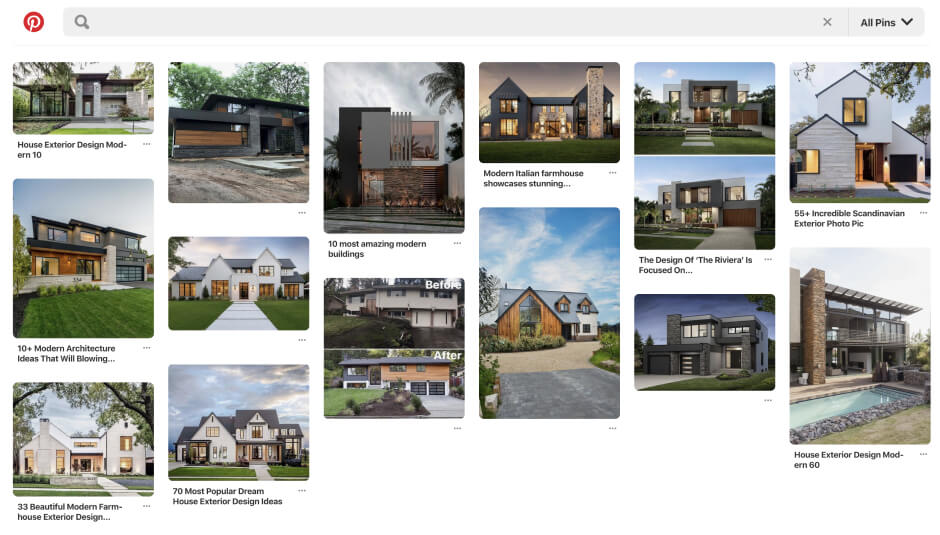 Why you should use Pinterest
With so many users - many who plan to buy a home in the future - this is a good place to help you achieve your goals. Pinterest has the potential to:
Attract more leads
Showcase your property listings
Draw attention to the location/s you specialise in
Better engage with your target audiences
Show that you are interested in other things that make a home a home, not just selling
Keywords are important, always
Pinterest has a powerful ability to generate highly tailored results unique to the keywords that users are searching for. With this in mind, your pins need to contain keywords when you're describing them. This will ultimately help users find your posts. Remember, any form of digital marketing is pointless without being discoverable.
The key is to choose two or three keywords that most capture what the pin is about. Then incorporate these into your description.
Promote a lifestyle
Before you create a content plan for Pinterest, it's important to remember that the platform is highly centred on the lifestyle of individuals. It's a place where people share their tastes, likes and discover new interests. In this process, it allows them to discover likeminded people.
Once you take this into consideration, Pinterest becomes a goldmine to attract new clients to your real estate company. After all, selling a home is ultimately selling a lifestyle. You can create boards that showcase the lifestyle that your homes offer. From living in luxury to enjoying wide-open gardens spaces, use the platform to promote sought-after and unique residential features.
Your content plan
The content plan you create for Pinterest needs to be engaging, add value and capture the attention of those who come across your pins. It needs to convince users that your posts are worth clicking. And don't forget to add attention-grabbing image/s and well-written descriptions with every pin you create. Side note: Descriptions have a 500-character limit.
Blogging: If you have a website that enables you to post area profiles and news articles (or blogs), these will be great to share on Pinterest. It will also drive traffic back to your website when users click on it. These will need to be unique, engaging and written professionally. In this way, you will be seen as trusted and reliable. Write and share articles that are relevant to your brand, such as latest property trends, advice and tips and area information.
Below are examples of news articles you could share on Pinterest for a real estate company based in Randburg:
Randburg's distinct residential market generates healthy buy-to-let returns
The residents of Randburg love these 4 activities
Randburg lights up for families this festive season
Listings: What better place to promote your listings than a platform that focuses on stunning visuals. So don't let your listings hide on your website. Instead, release them into the world of Pinterest. Share homes that have been expertly photographed with beautiful features such as designer finishes, well-manicured gardens and trendy entertainment areas. Be sure to provide a link of the property listing in the description.
Video: Uploading videos on Pinterest is becoming more popular among businesses. It has now become simpler to upload thanks to the now easier-to-use video uploader located under the business profile section. Videos that perform well are those that are inspiring, encourage an action and provide step-by-step "how-to" tutorials. Take a look at a walk-through video of a home in Bel Air, Los Angeles.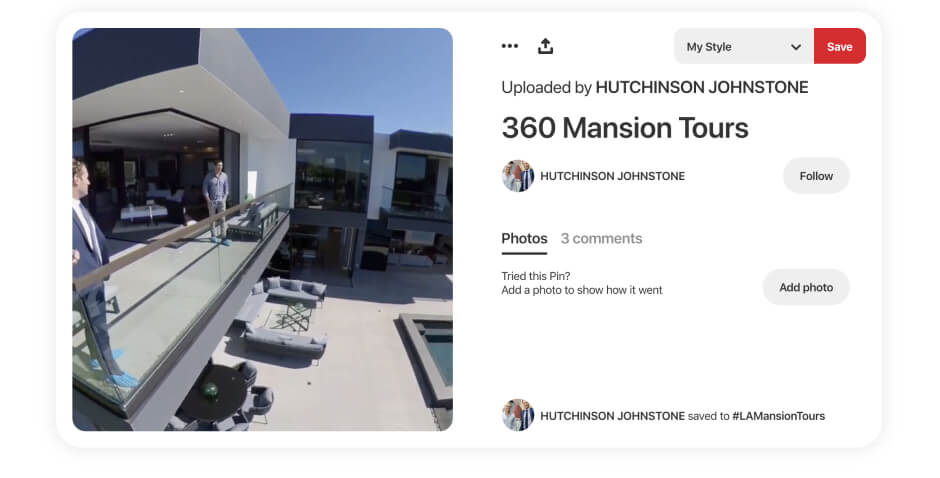 Uniquely Pinterest
If you already have a social media presence on platforms such as Facebook and Instagram, you may be thinking of overlooking Pinterest. However, if you do, you will miss out on unique marketing opportunities that only the platform can offer. The magic of Pinterest lies in how it allows you to organise the content you post. Thanks to 'boards', your pins can be organised into various themes. For example, this board from UK property company, Marsh and Parsons, is titled "Property tips & advice". Once you open it, users can see the number of pins it contains and the number of followers the company has on the platform. And below this information, you will be able to see and interact with every pin contained in the board.
Create a board dedicated to ...
Your listings, focusing mainly on sole mandates
The neighbourhoods you specialise in
Insightful property tips and advice
Once you start creating pins and boards, those following you (including your potential clients) can save it to their own Pinterest account. This gives your real estate agency a permanent home on their account.
How often should you post?
Experts say you should post a minimum of three pins per day, with a maximum of 30 pins. You'll get your best engagement after working hours. The best time to post is between 8-11 pm. The best day is on Saturday.