Opinion is split on the usefulness of business cards in the digital age. It's so easy for a user to get your contact details through LinkedIn or your website. Nevertheless, we still like the idea of handing out a physical reminder of meeting someone. It's also, in many cases, the first opportunity to show off your brand identity. Unlike your boards, users will have time to consider your business cards. We still recommend keeping this clean and simple though. A logo on one side and basic contact details on the other is perfect. Don't start listing services!
Stationary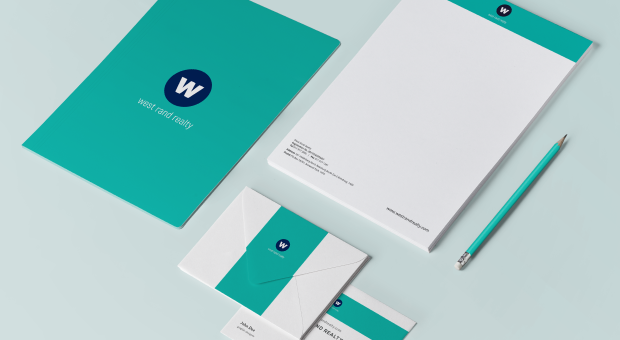 Letterheads, envelopes, compliment slips etc are also used less and less these days. At a minimum you should have a letterhead designed though. If you have the budget, get these professionally printed as most office printers will insert a margin around your document, which will limit what your designer is able to accomplish. The colours are also inconsistent through office printers. Always ensure you receive a digital version that works in Microsoft Word or an equivalent word processor to use when generating digital documents.
Office Signage
Your shopfront offers users a glimpse into the type of service users can expect before they've even met an agent. There are 100's of shops you've never entered just because of the the feeling you had passing it. Make sure you have "curb appeal" by keeping windows clean and paint fresh. A couple of well-maintained planters, an a-frame board with a benefit statement or any number of ways to make your entrance stand out won't go unnoticed. When it comes to signage, you want your brand to be easily noticed, without being garish. A few well placed logos within the style of your brand identity will do the trick. If you're showcasing properties in your windows, ensure they are well designed with large photos and easy to ready details.
PRO MOVE - Executing your brand across so many areas can be a time consuming and costly exercise, but you don't have to do everything at once. Work with an experienced design studio, set a budget and schedule the rollout so that you have the end goal in sight. Eventually you'll have a uniform brand identity that excites your team and attracts users.
Don't forget...
Your brand identity is all the ways users come into contact with your brand, so it's also worth considering having the following designed to ensure consistency:
Office Decor
You'll want to ensure the decor of your offices reflects your brand. You can pay excellent office fit out professionals to do this for you, but if you don't have the budget, simply follow the same advice you'd give a client when showing a house.

Keep it neutral - White and subtle variations will keep things modern and clean. Use colours from your corporate identity and use them sparingly. An accent wall is a great way to bring in a colour.
Artwork - Art is very subjective. Just because you like Game of Thrones fan art, doesn't mean your users do. Rather commission some posters of brand messaging or photographs of the areas you operate in and have them professionally framed and mounted.
Keep it clean - Your space is a direct reflection on the type of business you run. If your environment is cluttered and/or dirty, users will think that you'll provide a disorganised experience.

Dress Code or Uniforms
This really depends on the type of agency you are. Designed apparel that includes your branding will work for some brands while a defined dress code (even if relaxed) will work for others. Either way, it's important to set expectations for staff as they are representing your brand. Just like your office design, the way you dress will give a user an immediate impression of the type of service to expect.
Car Branding
Not an essential element of your identity, but an opportunity to create brand awareness as you drive around the areas in which you operate. We suggest implementing this subtly. No one likes to be shouted at, especially on the road.
Other Opportunities
There are countless other opportunities to implement your identity. As before, you should consider all the ways clients come into contact with your brand. This includes how users are greeted at your offices or how the phones are answered. Sales packs, presentations, reports, coffee mugs, corporate gifts and the list goes on. Of course not everything should be branded, but anything a client can take away should be.
Consistency is Key
Consistency across your brand identity is the most important and challenging aspect to get right. A user might pass a property board, go to your website, get emailed an appointment confirmation and arrive at your office in a single day. If the experience of your brand is not consistent at every point, you will look unprofessional and lazy.
There are more ways than ever before for users to be exposed to your brand. Let's look at a few ideas to help keep things in check.
Brand Guide
This is just a digital or physical document that describes your brand identity and can include:
Logo usage
Colour scheme references
Typeface (font) references
Examples of implementation
The more you have designed the bigger this document will be and it should evolve over time. Even if you're a new agency, this can be a good investment as mistakes can be costly to fix down the line.
Templates
Templates are a great way to ensure consistency. Get templates made for any repeatable brand identity or marketing material. Examples could be:
Business cards
Window displays
Digital property brochures
Email signatures
Mandate presentations