Think about your favourite marketing campaign. What made it so memorable? It connected with you on a personal level and offered a benefit you needed. All in an engaging package. Effective marketing campaigns like these get results. In real estate, you want to bring in leads, get exposure and create loyal brand followers. You can! With this section, you'll learn how to launch campaigns that 'kill' where others fall flat.
What is a marketing campaign?
These are organised and strategic efforts to promote a specific agency goal. For example, you may want to get a listing more views, increase newsletter subscriptions or boost the awareness of a new service offered.
Once you've decided on your goal, you'll need to carefully plot each step of your potential client's journey. Your campaign can target your audience in a range of ways like emails, social media posts and website content.
To help you be impactful, we've outlined the foundation behind a successful campaign and closed with a simple case study of a real estate campaign to see how it works in practice.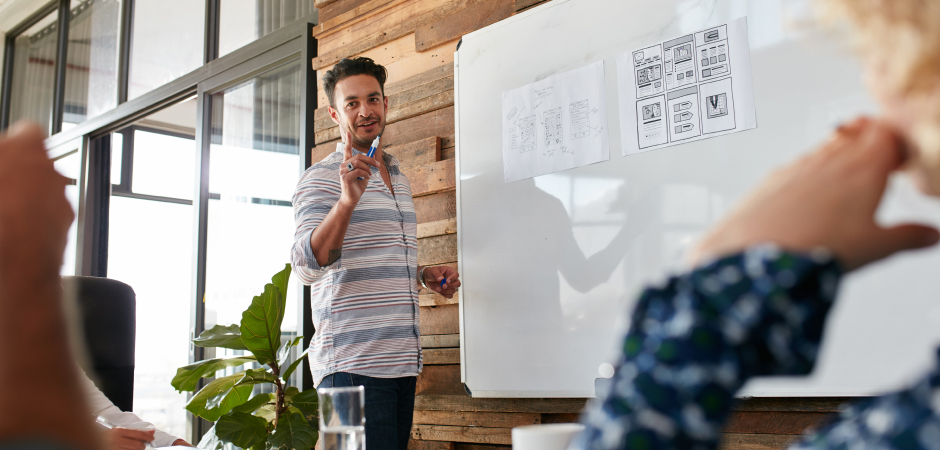 Get your branding done
For your campaign to be effective, you need to build a strong foundation. By putting a brand strategy together you can stand out from your competition.
By understanding your potential clients, you can tailor your campaigns to their needs. Use personas to target your campaign to a specific audience. The more personal and relevant your campaign is, the better it will do.
There's a lot of real estate noise out there. You should take time to design a logo that visually identifies your company. Your campaign should ensure your brand identity comes through consistently across all your marketing elements.
Design your website
Your website could be the start of your campaign or the endpoint. At the heart of every 'killer' website, is user experience. You want a website that priorities your users' needs. In order to tick the UX checkboxes, your website needs to be easy to use. As more users start their search on their cell phone, your website should also be mobile friendly.
Fill your website with content
Whatever campaign you run, your content needs to be in tip-top shape. Your potential client is looking for properties to rent or buy or services they need. Give them the information to help make their decision. Your website should have quality listings, well-written area profiles and regularly updated news articles.
Send out emails
Your website's content will only 'kill' if people are viewing it. Get the word out there with email marketing. If you're not taking advantage of it, you're missing out on new leads and potential sales.
The best thing about email is that it can be integrated into your estate agency's online framework and sent automatically. It makes keeping in regular contact with your users simple and efficient. A killer campaign will incorporate drip marketing. This is a strategy of sending a pre-written set of emails to prospective clients over a set period of time. This tactic allows your real estate brand to remain prominent in the minds of prospective property buyers.
By using newsletters, you can remind your potential and current clients about your campaign. Has there been a property reduced in price? Or a new service you're offering? Your newsletter can get your campaign more exposure.
Syndicate your listings
It's not just your website that gives your listings exposure. By uploading your listings to the prominent portals, you can get them seen with minimal effort.
Make use of Google Ads
Any killer campaign could do with the opportunities presented by Google. From text-based search ads to image ads, you have lots of options to showcase your campaign. If you find your campaign isn't getting traction, you can use remarketing. This will help you reconnect with potential clients and reinvigorate their interest in your listings and services.
Market on social media
Your killer campaign will slay on social media. South Africans spend more than two hours a day on social media. You need to make sure that some of that time is spent engaging with your brand. You have a wide range of social media sites: Facebook, Twitter, Instagram, YouTube, Pinterest and LinkedIn can all be used to great effect.
Over and above Google adverts, social media also offers paid advertising. You can also drive your campaign objectives through Facebook image adverts, lead ads and catalogs, to name a few of your options.
Case study: Greenhaven Estate
The client
The Greenhaven Estate is a lifestyle estate aimed at active over 50s. The estate ensures that the next steps in one's retirement journey are run easily and smoothly.
The problem
While the lifestyle estate's benefits speak for themselves, exposure was an issue. They needed to get the word out there - especially to target a tech-savvy mature audience and their children.
The objective
Greenhaven Estate planned to launch with an open day. To help attract people to the event, Prop Data decided to build a digital marketing strategy that would help get their message out in the right places.
The solution
The first step in this campaign was to design their logo and come up with a tagline that captured the essence of this development. The phrase "Your next step is a step up" was carefully penned to create a positive impression around the idea of retirement and downsizing.
Next, we designed their website. A fuss-free single page design was used in keeping with the target audience.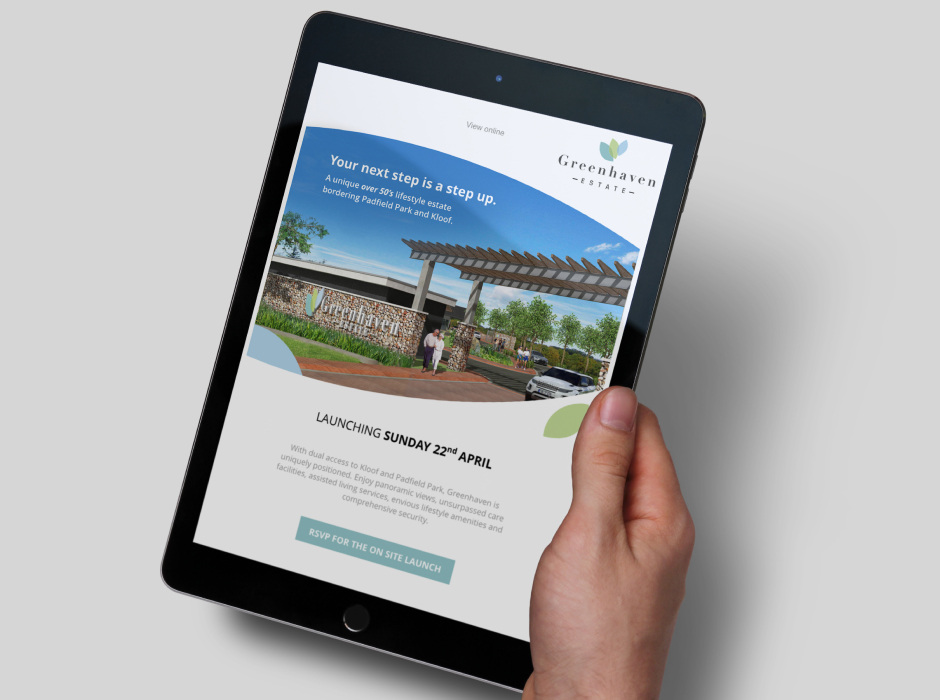 A drip email campaign was implemented using the database of the company promoting the development – Wakefields. This database was also used to send notifications about the estate, as well as launch reminders.
Display and search adverts were created to drive visitors to this new website. These adverts were regularly updated to reflect the units currently available.

The outcome
Greenhaven Estate had a successful open day. They attracted a sizeable amount of visitors and built up their brand presence in the area.